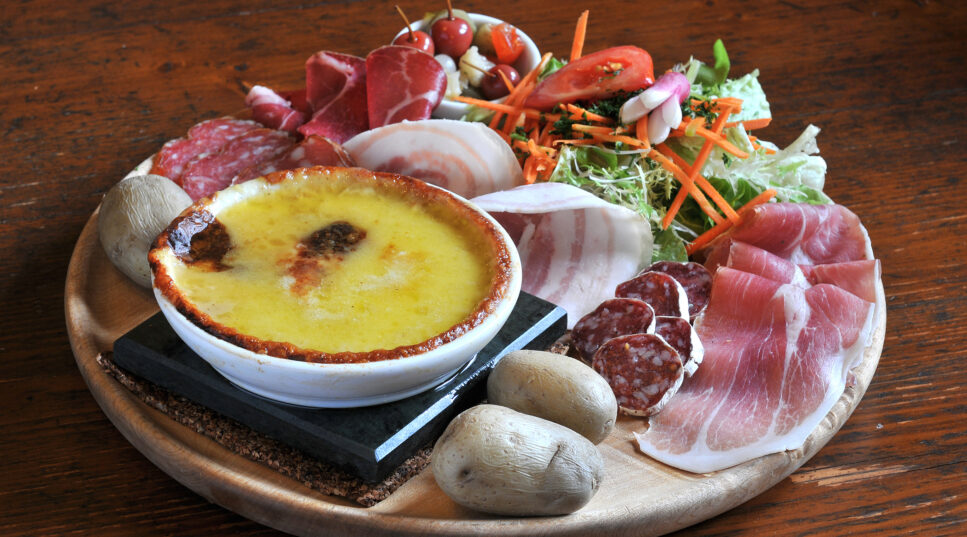 Berthoud à l'Abondance is a delicious and hearty dish that combines the rich and nutty flavor of Abondance cheese with the comforting goodness of potatoes and lardons. This traditional Savoyard recipe is sure to warm you up on a cold winter's evening and is the perfect comfort food.
Here's how to make it:
Ingredients:
1 kg of potatoes
400g of Abondance cheese
200g of lardons
1 onion, finely chopped
2 cloves of garlic, minced
1 cup of heavy cream
2 cups of chicken stock
Salt and pepper to taste
Chopped parsley for garnish
Instructions:
Peel and slice the potatoes into thin slices.
In a large skillet, cook the lardons over medium heat until crispy. Remove with a slotted spoon and set aside.
In the same skillet, add the onion and garlic and cook until softened.
Add the sliced potatoes and stir to coat them in the bacon fat. Cook for a few minutes, until they start to soften.
Pour in the chicken stock and bring to a simmer. Cover and cook until the potatoes are tender and the liquid has been absorbed.
Remove from heat and stir in the heavy cream. Season to taste with salt and pepper.
Preheat your oven to 180°C (350°F).
Crumble the Abondance cheese and add it to the skillet. Stir until the cheese is melted and well combined with the potatoes.
Transfer the mixture to a baking dish and top with the cooked lardons.
Bake in the preheated oven for 15-20 minutes, or until the top is golden brown and bubbly.
Garnish with chopped parsley and serve hot.
Berthoud à l'Abondance is best served as a main dish, and pairs well with a dry white wine or a fruity red wine. This dish is perfect for a family dinner, or even to be served as a comforting lunch.
Enjoy your Berthoud à l'Abondance, and don't forget to savor the rich, nutty flavor of the Abondance cheese and the comforting goodness of potatoes and lardons in every bite!